Updated: Friday 17th December 2021 (Omicron Variant Update #2)
PLEASE HELP US TO KEEP EVERYONE SAFE WHEN ATTENDING FOR YOUR APPOINTMENT
YOU ARE REQUIRED TO WEAR A FACE COVERING WHEN GREETED AT THE DOOR ON ARRIVAL AND AT ALL TIMES WITHIN THE BUILDING
YOU WILL BE ASKED SCREENING QUESTIONS PRIOR TO ENTRY
PLEASE NOTE OUR WAITING ROOM IS CLOSED
WE ASK YOU TO ARRIVE PROMPTLY (NOT EARLY) FOR YOUR APPOINTMENT AS YOU WILL NOT BE ABLE TO ENTER THE BUILDING TO WAIT
As a Covid-19 Secure Company, we are able to operate in a safe environment and so protect our staff, practitioners and you, our patients. As we all continue our fight against this virus, it is important that we each do our bit to stem its advance so please read on to find out what measures we are taking and how you can help us to make your visit safe for all.
We are fully open for face to face appointments with all practitioners!
Our reception lines are open during normal hours but there may be a delay in answering so please bear with us or you may prefer to use our contact form.
NOTE: In line with government guidance, as a healthcare setting, we require all patients to provide and wear a face covering when in the building. Please attend alone and only arrive at your booked time to help maintain social distancing. If you have recently been abroad please notify us when met at the entrance.
We update this page regularly so check this page often for the latest news.
Children & Chaperones – sorry but only children booked for an appointment will be admitted, in line with our chaperone policy, under 18's must always be accompanied by an adult for treatment.
If you would like to bring a chaperone for yourself, this is always possible – to allow us to predict numbers in the building please inform us of this before your appointment – we reserve the right to refuse admission unless there is prior approval noted on the system.
We will look different when you come for your appointment – for more information on the measures we have taken to keep our staff, practitioners and patients safe during the pandemic please visit – Westway Clinic Covid-19 Secure Information.
General information:
Please arrive at the time of your appointment and ring the doorbell on arrival as the door will be locked (please be patient as the receptionist may be on the phone when you arrive).
You will be met by a practitioner or member of staff who will ask screening questions and confirm your appointment.
You may not be admitted if you are early, accompanied without notice or are unable to comply with our infection control requirements, including refusal to wear a face covering.
You may then be asked to remove any gloves and sanitise your hands before being admitted, either direct to the treatment room or to our waiting room. If you prefer you may opt to wait outside.
We are asking patients to use face coverings at all times whilst inside the building in line with current Government guidance.
Staff and practitioners will be wearing PPE such as gloves, aprons and face coverings and all surfaces in rooms will be disinfected between patients.
To accommodate this extra work we ask you to be prompt and work with us to keep things running smoothly.
Contactless payment by card is preferred so we are unable to accept cash etc until further notice. Should you have to use the pin pad on the payment machine we will disinfect it before and after each use. Remember the contactless limit has increased to £100 but if you prefer to pay with Apple Pay or Google Pay there are currently no limits.
Please keep up to date with the Government and Public Health England guidelines:
   Hands – Regularly Wash Your Hands For At Least 20 Seconds
   Face – Please wear a face covering at all times when inside our clinic buildings
   Space – Maintain 2m (6ft) Distance From Others At All Times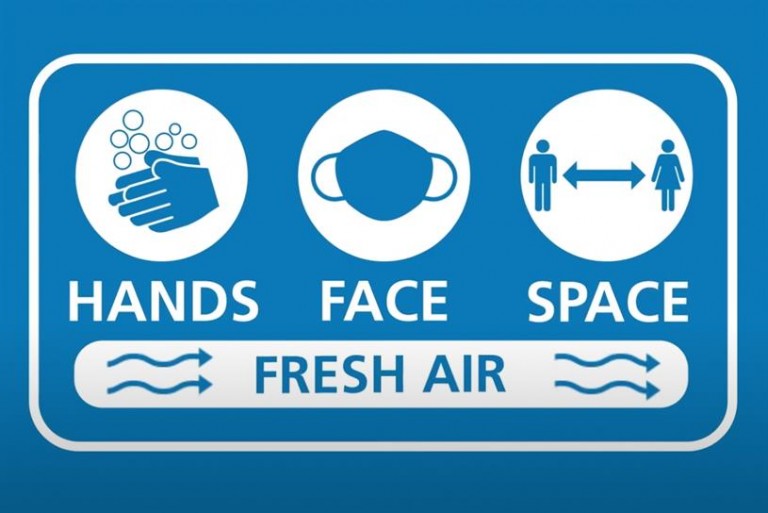 DO NOT ATTEND IF YOU OR A MEMBER OF YOUR HOUSEHOLD HAVE DEVELOPED SYMPTOMS OF COVID-19 SUCH AS:
A high temperature
A new and continual cough
A loss of or change to your senses of taste or smell
If you are unsure of whether you should attend, please call us on 01737 762990
WE ARE ENFORCING THE GOVERNMENT QUARANTINE PERIOD FOR TRAVELLERS RETURNING FROM OR TRANSITING THROUGH ANY COUNTRYT ON THE 'RED' LIST – CLICK HERE
Thank you for keeping everyone in our clinic and community safe
The Westway Clinic – Proud to be a Covid-19 Secure Company